Tencent has earmarked September 9 as a new day of giving in China and hopes to inspire it's users to donate to charitable causes, not just on that date, but throughout the year. beijingkids spoke to Becky Wang, director of Roundabout, who hopes to raise RMB 1 million from donations with RMB 1 million matched by Tencent.Here's how to take part on September 9 
Note: You need WeChat wallet to donate. Find out how to set it up here.

Step by Step

1. Search for Roundabout's official account: roundabout666, add the account then look at the bottom of the screen to see this:
2. Click to find the fundraising projects.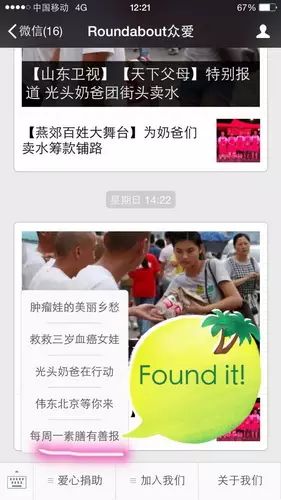 3. Click on the last project on the list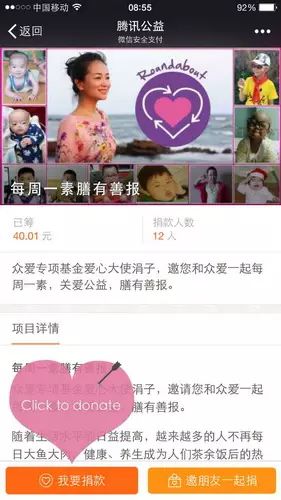 4. Click on the button the left to go to the donation page.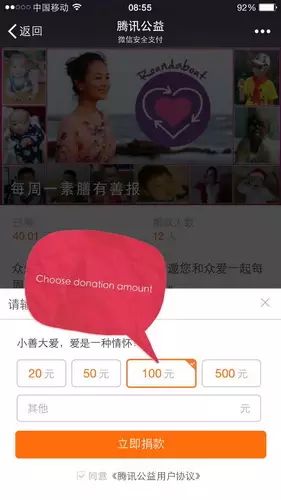 5. Donate one of the pre-selected amounts (RMB 20, 50, 100, 500) or write the desired amount in the space below. Then click on the orange button to go to the confirmation page.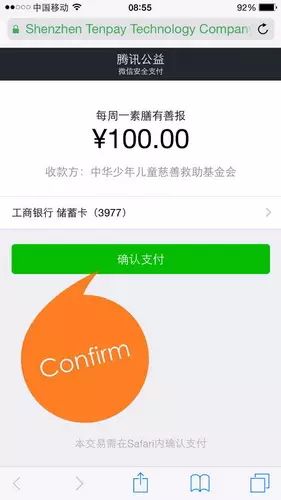 6. Click on the green button to confirm your payment.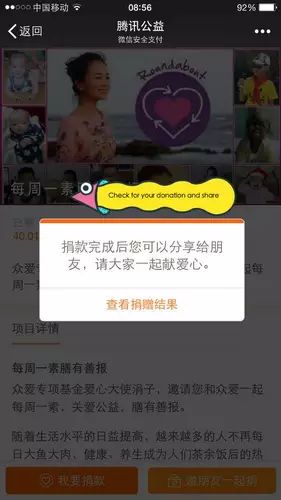 7. If you wish to see share your donation certificate to inspire others to donate, then click on the pop up window's orange text.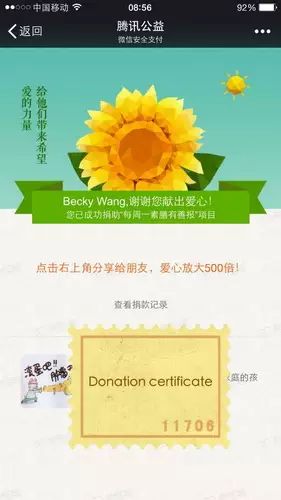 8. The donation certificate doesn't show how much you donated just that you donated.
Roundabout Vegetarian Fund
The idea behind Roundabout's Vegetarian Fund is to "cut-back and donate." Members of the public are asked to cut-back on meat, eat a vegetarian meal, and donate the approximately RMB 20 saved to the Roundabout fund via WeChat.
Whether you manage to go meatless or not, please donate to Roundabout fromSeptember 7-9. The money raised goes towards helping to treat sick children; for example previous recipients of funding have had heart surgery, bone-marrow matching, respite care, specialist medical care for premature babies, and more.
Since November 2014, Roundabout is eligible to receive public funding in China under the China Charities Aid Foundation for Children (CCAFC), but all funds raised under CCAFC and intended for Roundabout will go directly to the charity.
Thanks to Beijing Kids. Please click the link below  to check the original page @ Beijing Kids.
http://www.beijing-kids.com/blog/Nimo-Wanjau/2015/08/28/Donate-to-Roundabout-Via-WeChats-Day-of-Giving-On-September-9?from=groupmessage&isappinstalled=0